One Day Only
October 18, 2019
One Day Only
October 18, 2019
Stifel Fine Arts Center
1330 National Road Wheeling, WV
304-242-7700
Hours
7:00pm

$25.00
Join Dallas yoga teacher Amy Johnson for an energizing, 60-minute all-level Glowga (Halloween themed yoga class) 7pm Friday, October 18 at the Stifel Fine Arts Center. (Doors open at 6:15pm.)
Wear your favorite neon or white and come flow and glow under black lights with fun invigorating music. Come painted or show up early to decorate yourself. Glow bracelets and light paint provided. A limited number of mats will be available. If you have a mat, please bring it.
Workshop fee includes a post glow drink and a preview of the Bixby Studios creature installation at the Shadows Ball. Anyone attending Glowga will receive a $10 discount on a single ticket to the Shadows Ball Saturday, October 19.
$25 per person. Open to ages 18 & up.
Register online or call 304-242-7700.
(To receive the Shadows Ball discount, participants must register by calling 304-242-7700. Discount not available on online registration.)
More about Amy Johnson: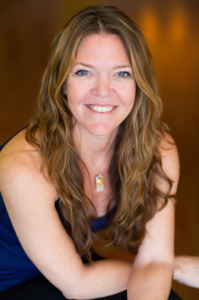 Amy Johnson is the owner of Eastside Karmany in Dallas, Texas and has taught yoga for 16 years.
A former music educator, Amy teaches flowing, yet powerful classes infused with the rhythm and grace of her music and movement days. Her classes create a sense of community and connection where students can grow and explore without fear or judgment.
Her training began in 2003 at American Power Yoga. She has studied under seasoned teachers including Beryl Bender Birch, Rod Stryker, Dharma Mittra, Aadil Palkhivala, Ana Forrest and Shiva Rea. She has also presented at the Telluride Yoga Festival, Texas Yoga Conference, Austin Yoga Festival, OYUSA, and the I AM Festival and does consulting with various studios in Texas and Oklahoma.
Stifel Fine Arts Center
1330 National Road Wheeling, WV
304-242-7700
Hours
7:00pm

$25.00