One Day Only
September 06, 2019
One Day Only
September 06, 2019
Towngate Theatre & Cinema
2118 Market Street Wheeling, WV
304-242-7700
Hours
6:00-9:00pm

Free Admission
Add Oglebay Institute's Towngate Theatre to your list of September 6 First Friday stops in Wheeling!
View the latest exhibit, "Once Upon An Enchanted Rainbow Forest," on display in "The Gallery at Towngate."  Enjoy short films on the Towngate big screen.  Then, at 8 p.m., local spoken word artists "The Prosers" take the stage.
Doors open at 6p.m. Have a drink on us. Your first drink is complimentary. Wine and craft beer will be available. Enjoy some light foods, too. Mingle with our staff and explore our theater. Learn more about the many arts and entertainment events that take place year-round at Towngate.
Sponsored by Main Street Bank, all events are free and open to the public.
"Once Upon An Enchanted Rainbow Forest"
"Once Upon An Enchanted Rainbow Forest" features work by mixed-media artist Christybomb and illustrator Staci Leech-Cornell.
About Christybomb
Christy Lee, better known as Christybomb, is a visual artist based out of New York City and Charleston, WV. Her friends gave her the "Christybomb" moniker because of the energy and vivaciousness embodied within her art.
Her artistic creations draw inspiration from the happiness, innocence and youthful fantasies of her childhood, like Candyland, Hello Kitty and Willy Wonka. At the same time, over-the-top trends and looks of avant-garde fashion, cosplay and drag queens influence her work.
In reaction to the monotony and shortcomings of conventional painting, she incorporates unconventional materials into her work such as string, rope, yarn, wire, pipe cleaners, plastic straws and Swarovski crystals. She then further embellishes all of that with flashes and accents of glitter, pom-poms, googly eyes, beads, sequins, broken glass and metal spikes, among other ingredients.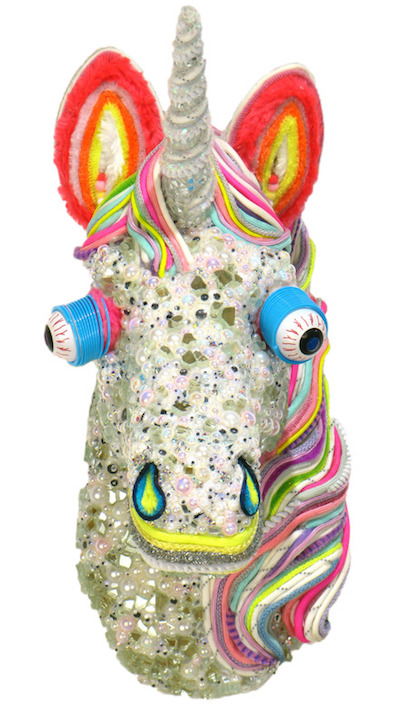 About Staci Leech-Cornell
West Virginia fine artist and illustrator Staci Leech-Cornell was raised in Greenbrier Co., WV where she grew to love her family's' incredible collections of ceramic birds and other nick-knacks. She expresses that love through her drawings, paper works, and gouache paintings. Staci comes from a family of creative people and has been creating and drawing since she was very small. Her past and present fascination with birds and the whimsy of wildlife are deeply rooted.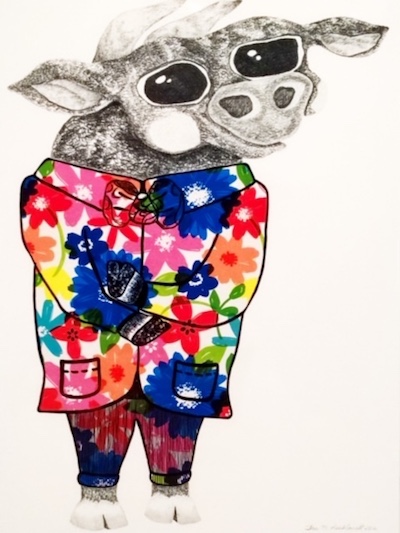 The Gallery at Towngate
Towngate Theatre is well known in Wheeling and its surrounding communities for community theater productions, children's theater, concerts, ballet, film screenings, spoken word and other performing arts events. But did you know that Towngate is also an art gallery? The theater lobby is now home to changing art exhibits.
"The Gallery at Towngate" is an extension of the exhibit season hosted by Oglebay Institute's Stifel Fine Art Center. This second gallery space provides opportunities for artists to do solo exhibitions without having to fill a space as large as the Stifel Fine Arts Center. The gallery space also enhances the visitor experience for those attending performing arts events at Towngate.
Towngate Theatre & Cinema
2118 Market Street Wheeling, WV
304-242-7700
Hours
6:00-9:00pm

Free Admission