June 02, 2023 - August 07, 2023
June 02, 2023 - August 07, 2023
Oglebay Institute's Towngate Theatre & Cinema
2118 Market Street
Wheeling, WV 26003
304-242-7700
Hours
Mon-Fri: 11:00am-1:00pm and during all events

Free Admission
The Gallery at Towngate is proud to host "Countenance," featuring mixed media works by Pamela Cooper.
The exhibit is on display June 2–August 7. The Gallery at Towngate is open 11am-1pm Monday through Friday and during all events.
An opening reception takes place Friday, June 2 from 6–8pm.
About the Artist
Pamela Cooper is a mixed media artist from Pennsylvania whose masterful use of color transforms flowing shapes into stunning works that celebrate the resilience of life and the power of creativity. She carefully balances the aesthetics of her art with the use of gestural strokes and shapes to create visual harmony.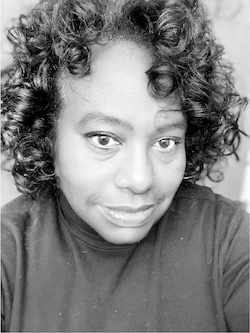 An entrepreneur, educator, and community leader, Cooper is the recipient of the 2023 Distinguished Alumni Leadership Award from Seton Hill University. She is a member of the Associated Artists of Pittsburgh, Pittsburgh Watercolor Society, and the Society of Sculptors, Pittsburgh. She is also a member of the longest running, visual arts organization of African American women in the USA—Women of Visions.
Her works have been shown at the Carnegie Museum of Art, University of Pittsburgh—Frick Art Gallery, Pittsburgh and Kenkeleba Gallery, NYC.
Her style is described as figurative with abstract and expressionist influences. Cooper is part of WCT's Incubator for Arts program. The Westmoreland Cultural Trust, a nonprofit organization, provides studio space to local artists in the community. Her studio space is located in Westmoreland's Cultural District, Greensburg, PA.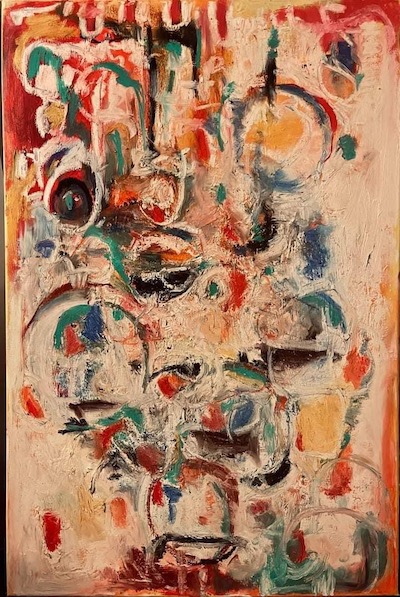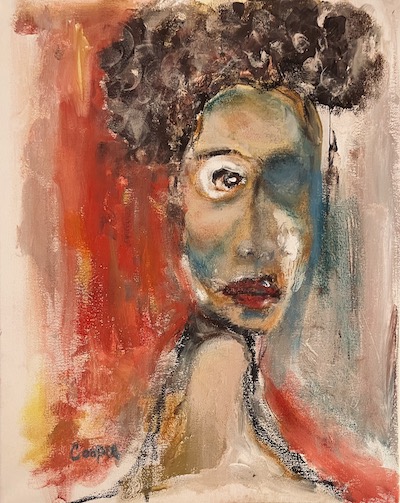 Artist Statement
During an eye exam in 2005, a printout of the inside of my eye revealed the image of a face. A skull. It was smiling. Seeing faces in objects is a common experience. My abstracts tend to take on an illusory appearance and at times faces are deeply rooted in the structural design of my paintings.
I begin the process with laying a foundation; focus mainly on developing the shapes, painted strokes, and gestures. If I can see a face emerging I will allow it. The shapes around it and in it will simply just flow. When I use a combination of brushes and rags, I gain more control with my application of the paint. Forms, colors, and lines, become in sync and intertwine to create a balance. I am free to express my inner feelings without relating them to the outside world. I become engrossed with just the concept of painting. The subject matter, at this point, is irrelevant. I am more engaged with defining shapes and colors that relate and interact in a compatible way.
All abstract paintings must have harmony, just like a musical work. Some elements of the beginning of my paintings like gestures and strokes will always be seen and relevant in the process of my works. Inspiration is drawn from the world around me and often found in photos of faces and objects. My materials used for my paintings are acrylics, pen sticks, oil, and chalk pastels. I am able to see the effects of my work quickly. Drying time is significantly less than using only oil paints in this process.
I find the action of gestures, lines, and shapes mesmerizing. At some point my subconscious steps in during the creative process. It allows a degree of freedom from the visual references of the world.
The Gallery at Towngate
Towngate Theatre is well known in Wheeling and its surrounding communities for community theater productions, children's theater, concerts, ballet, film screenings, spoken word and other performing arts events. But did you know that Towngate is also an art gallery?
The Gallery at Towngate is a small space gallery that features the work of local and emerging artists and focuses on community engagement, inclusion and the mingling of visual and performing arts.
2022-23 Gallery at Towngate Exhibition Schedule:
September 9–November 20: Russ Schultz
December 1–January 15: Cheryl Ryan Harshman
January 21–February 26: West Liberty University Creative Arts Therapy Student Exhibition
March 3–May 21: Ceramic artists Jen Allen & Richard "Duke" Miecznikowski
June 2–August 7: Pamela Cooper
Oglebay Institute's Towngate Theatre & Cinema
2118 Market Street
Wheeling, WV 26003
304-242-7700
Hours
Mon-Fri: 11:00am-1:00pm and during all events

Free Admission